Eye-Tracker Laboratory
Aims
In the Eyetracking-Laboratory, eye and arm movements are measured simultaneously to study contributions of visual and motor system to the planning and execution of goal-directed movements under risk.
Setup
We measure eye and arm movements by combining an infra-red camera based eye-tracker (EyeLink®II, Sensomotoric Instruments) with a CRT-touch screen (see picture). This set-up allows us to simultaneously access gaze-position, time and location of the start and end of a pointing movement on a trial-by-trial basis, as well as to provide real-time feedback on gaze position and movement end point.
In our experiments, subjects rapidly point at visual targets carrying monetary rewards. Subjects' visuo-motor strategies are then compared to a model of optimal visuo-motor performance.
Picture: Left: Setup scene during an experiment. Right: EyeLink®II, Sensomotoric Instruments

.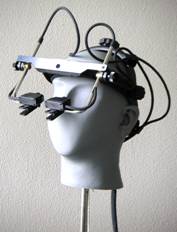 Poster:
Diana Pittig. Effects of different time delays in decision making under risk. (PDF)

Tim Schönwetter. Einfluss von Scheinbewegung auf sakkadische Augenbewegungen. (PDF)

Martin Stritzke. Eye movements are guided by vision and the task. (PDF)