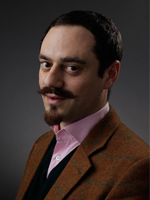 Prof. Roland W. Fleming, PhD
Kurt Koffka Professor of Experimental Psychology
Giessen University
Department of Psychology
Otto-Behaghel-Str. 10
35394 Giessen (Germany)
Phone:

+49(0)641 / 99-26140

Fax:

+49(0)641 / 99-26119

E-Mail:

Office:

Building F2, Room 351
---
Research Interests
Visual Perception of Objects and Materials
Research in my lab focusses on how we visually infer the physical properties of surfaces, materials and objects in our surroundings.
When we look at things, we don't experience the world as a meaningless jumble of lines, colours or motions. Instead, whenever we open our eyes, we immediately gain access to a richly detailed world of meaningful visual sensations. We recognise objects; perceive what things are made of; identify risk and pleasures and can even work out how objects might respond to forces or actions. Based on how things look, we are able to make a remarkable range of subtle judgements about the physical properties of objects, such as whether food is fresh or stale or whether an object is stable or likely to topple over. Without touching an object, we can usually work out what it would feel like were we to reach out and touch it, based on the curves and contours of its shape and the way light plays across its surface. My research program aims to understand how the brain estimates the 3D shape of surfaces, and the material properties of objects such as elasticity, translucency or viscosity. In order to do this, we use a combination of computer graphics, image analysis techniques, neural modelling and psychophysical experiments.
---
Short Bio
Roland Fleming
Roland Fleming is the Executive Director of the Center For Mind, Brain and Behaviour (CMMB) of the Universities of Marburg and Giessen, and co-Spokesperson for the Research Cluster The Adaptive Mind. He is an interdisciplinary researcher specializing in the visual perception of materials, illumination and 3D shape. He did his undergraduate degree in Psychology, Philosophy and Physiology at Oxford University, graduating with First Class Honours in 1999, and completed his PhD in the Department of Brain and Cognitive Sciences at MIT in 2004. He then served as a project leader at the Max Planck Institute for Biological Cybernetics in Tübingen. In 2010 he joined Giessen University as a junior professor. Since 2016, has been the Kurt Koffka Professor of Experimental Psychology.
His research combines psychophysics, neural modelling, computer graphics and image analysis to understand how the brain estimates the physical properties of objects. He has conducted a wide variety of studies on the perception of material properties such as glossiness, translucency, and viscosity and has applied insights from this work to the development of computer graphics algorithms for simulating material appearances. Roland Fleming has served as joint Editor-In-Chief of ACM Transactions on Applied Perception, an interdisciplinary journal dedicated to using perception to advance computer graphics and other fields. In 2012 he was awarded the Faculty Research Prize from the University of Giessen and in 2013 he was awarded the Young Investigator Award by the Vision Sciences Society. In 2016 was awarded an ERC Consolidator Grant for the project "SHAPE: On the perception of growth, form and process" and in 2023 was awarded an ERC Advanced Grant for the project "STUFF: Visual Perception of Materials and their Properties". In 2022, he was elected Fellow of the Royal Society of Biology. For more information see the Wikipedia entry on Roland Fleming.
---
Keywords
psychology | cognitive science | computational neuroscience | sensory, perceptual and motor processes | human visual perception | mid-level vision | material perception | surface perception | object perception | optical properties of materials | mechanical properties of materials | binocular stereopsis | motion | colour | shading | texture | contours | perceptual organization | grouping | transparency | translucency | gloss | sub-surface scattering | shape-from-x | intrinsic image analysis | categorization | one-shot learning | generative models | perceptual organization | computer graphics | BRDF | photorealism | image-based editing | physics simulation | HDR images | tonemapping | perceptually-inspired computer graphics | motor-control | grasping | precision grip | multidigit grasping | psychophysics | behavioural experiments | motion tracking | computational modelling | machine learning | deep learning | deep neural networks | unsupervised learning | self-supervised learning.